What is Smart Casual Dress Code for a Wedding?
While many have never been to a wedding with a smart casual dress code, its popularity has been on the rise in recent years. Theoretically, it's the union of an aesthetic reminiscent of formal and the comfort and relaxed feel of something casual – if you can figure out what it even is!
Read to the end to learn what is smart casual dress code for a wedding and how you can rock the look.
What is Smart Casual Dress Code?
If you've never heard of smart casual, you're probably a little confused as to what that means. Strangely, you have this in common with many people who have heard of it before. So don't fret – you're in good company. It's considered one of the most complicated wedding attires as it lies between formal and informal.
Dressing appropriately for a wedding with a smart casual theme can be difficult as you try to find the line between being over- and under-dressed.
Masterclass defines Smart Casual as "a dress code that combines well-fitting, polished business wear with elements of casual attire."
This kind of wedding dress code usually revolves around skirts, dresses, or even slacks for women, whereas men might choose chinos, dark wash denim, or suit pants with a casual shirt.
It combines casual and formal wear beautifully and is equally good for business meetings and wedding ceremonies. However, make sure to tweak the elements per the wedding venue and overall vibe.
For example, a short suit without accessories except for a minimalistic pair of earrings would be the best for a woman attending a meeting. On the contrary, you may wear a midi dress with a few finger rings to a wedding. The concept of smart casual is to keep it classy and presentable without going overboard with the hairstyles or accessories.
It also means that such styles must accompany minimal makeup and suitable footwear. Excluding stilettos and platform heels can be a good choice for starters. Block heels, ballet flats, or flat sandals are among the top options for smart casual wedding attire.
What is Smart Casual Dress Code for a Wedding?
A smart casual dress code for weddings gives you a guest-like look without being overly fashionable.
Nina Ma'Belle Wiener of Nina Ma'Belle weddings says, "Although it presents a fair amount of freedom if you get invited to a wedding where the dress code is 'smart casual,' be sure not to get too dressed up. I would always recommend asking yourself questions like, 'Where is the wedding being held?', 'Who will be attending?' and 'Is the wedding being held in the day or the evening?"
She added, "That being said, a great midi cut dress with a comfortable pair of statement flats or tailored pants with a sleek blazer, and the luxurious bag will tick all of the boxes. Just to be clear, if the outfit you are choosing ends up feeling more cocktail, then change the direction of your look."
Smart Casual Wedding Dress Code Ideas
Now that you have an idea of what smart casual for a wedding might look like, here are a few outfit ideas to make dressing up effortless for you.
Have you ever thought of wearing a colored pleated skirt to a wedding? If not, the time is now!
With smart casual wedding attire in fashion, you can wear a long or knee-length skirt to a wedding any day.
For a gorgeous wedding day ensemble, get your hands on a solid-colored pleated skirt in green, pink, blue, or any other shade of your choice.
Next, you need a solid-colored plain shirt to go with the skirt. Light blue, blush, white or black can be good options depending on the bottoms.
Pair it up with a formal belt in gold or silver to complement the outfit. Add a necklace, a bangle, and neat nail art from a professional, and you are ready to go!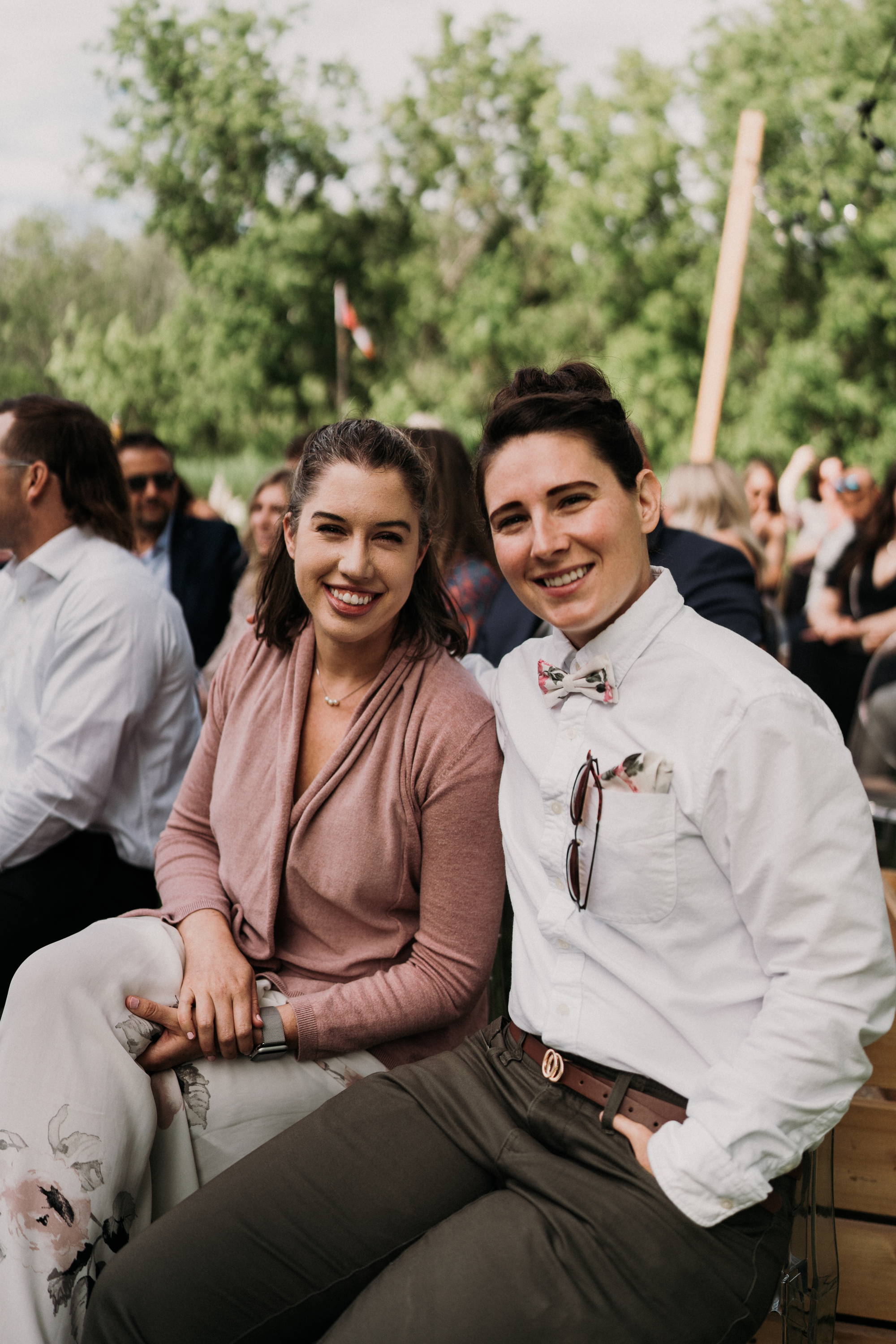 Whether it's Meghan Markle, Julia Fox, or you, no one can go wrong with midi dresses.
If you're looking for something easy, look no further. You can get ready with three simple steps for a smart casual-themed wedding without spending a lot of money, time, or effort.
Search your wardrobe to find a suitable, gorgeous midi dress that you can wear to a wedding (or order one now!)

Pair the dress with a statement belt and clutch for the look that turns heads.

Lastly, put on light makeup with solid nail paint.
Who thought going to a wedding ceremony could be this easy!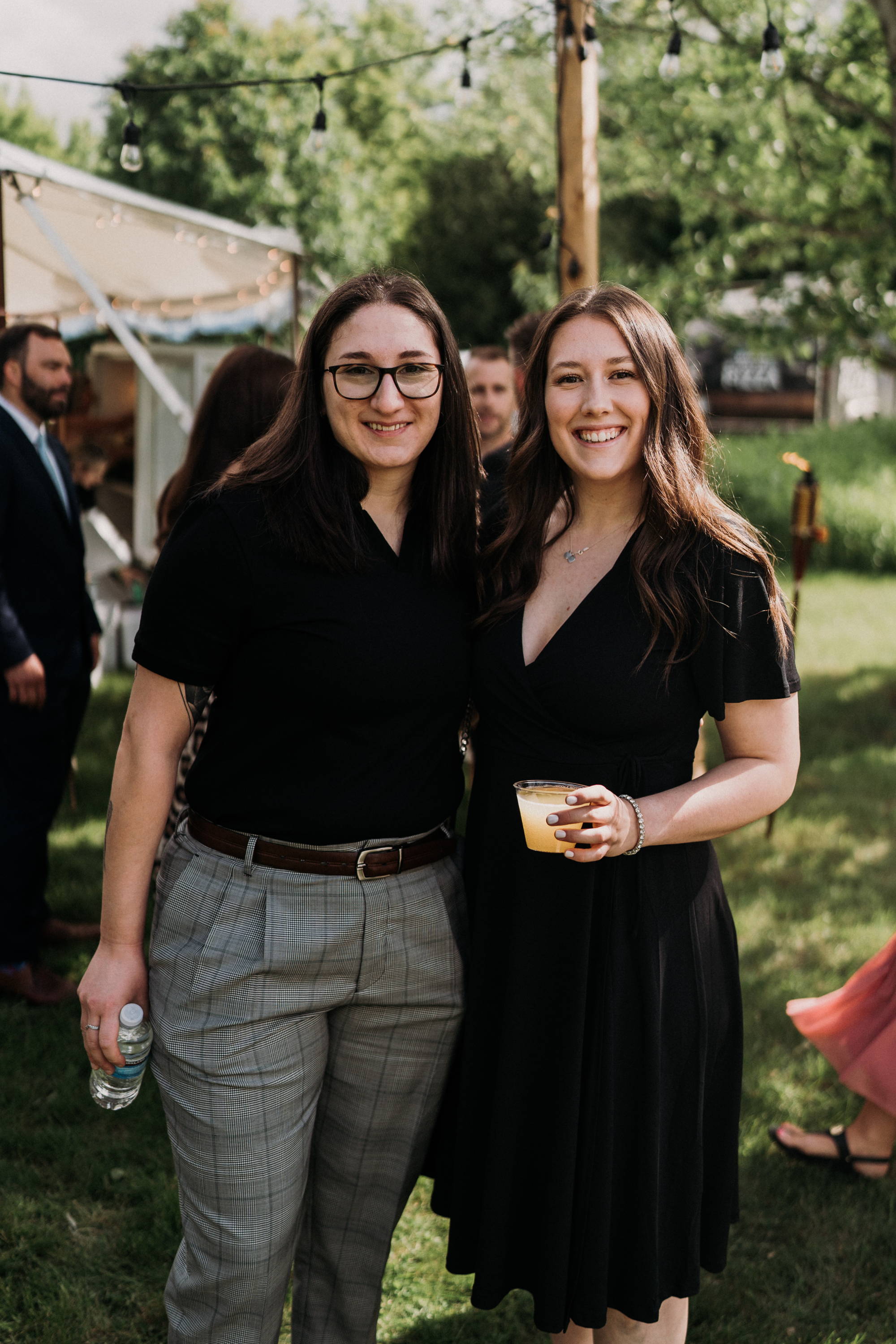 ---
---
While you might not have thought of it, sundresses have made it to the list of acceptable attire in smart casual wedding dress code. The guide for sundresses for weddings is simple. Just order a pretty sundress off your favorite website, pick one from the ones you already have, or uncover one in an expedition to a secondhand store. Pull on your dress and pop into a cute pair of ballerina shoes.
Adorn the outfit with dainty earrings and a necklace. Don't forget your sunglasses!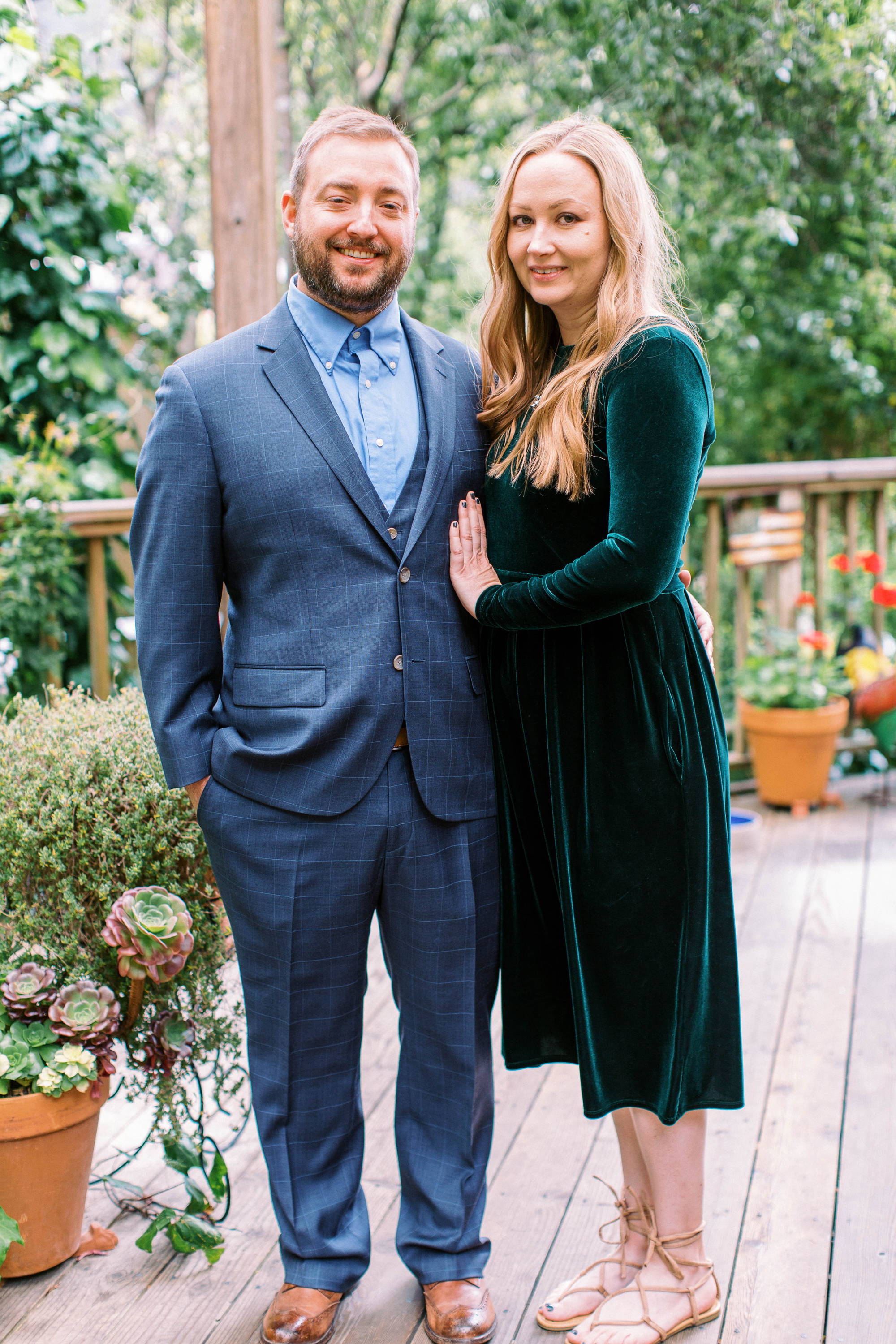 Something we love about styling is how you can do absolutely anything and it could be the next trend. Blazers with dresses have been quite popular for smart casual business attire. And if no one told you – you can wear them to weddings too.
You may opt for a blazer with a dress or a nice pair of khakis. This combination never goes out of fashion, especially when combined with a high ponytail. We can imagine how gorgeous you would look in that!
Make sure to carry a classy bag that differentiates the look from business casual and makes it wedding smart casual.
How to Dress Smart Casual for a Wedding – A Cheat Sheet
The answer to what is smart casual dress code for a wedding is not confined to the few looks we have mentioned above.
The possibilities are endless. Read on to know what lies between formal and informal, and also looks wedding-like.
One-piece dresses are the simplest choice whether you are going to lunch, a party, or a wedding ceremony. They are not overly fancy but do not look as casual as streetwear either. You can opt for a midi-dress or a knee-length frock to wear to your friend's wedding. Or, get a jumpsuit to stand out and blend simultaneously.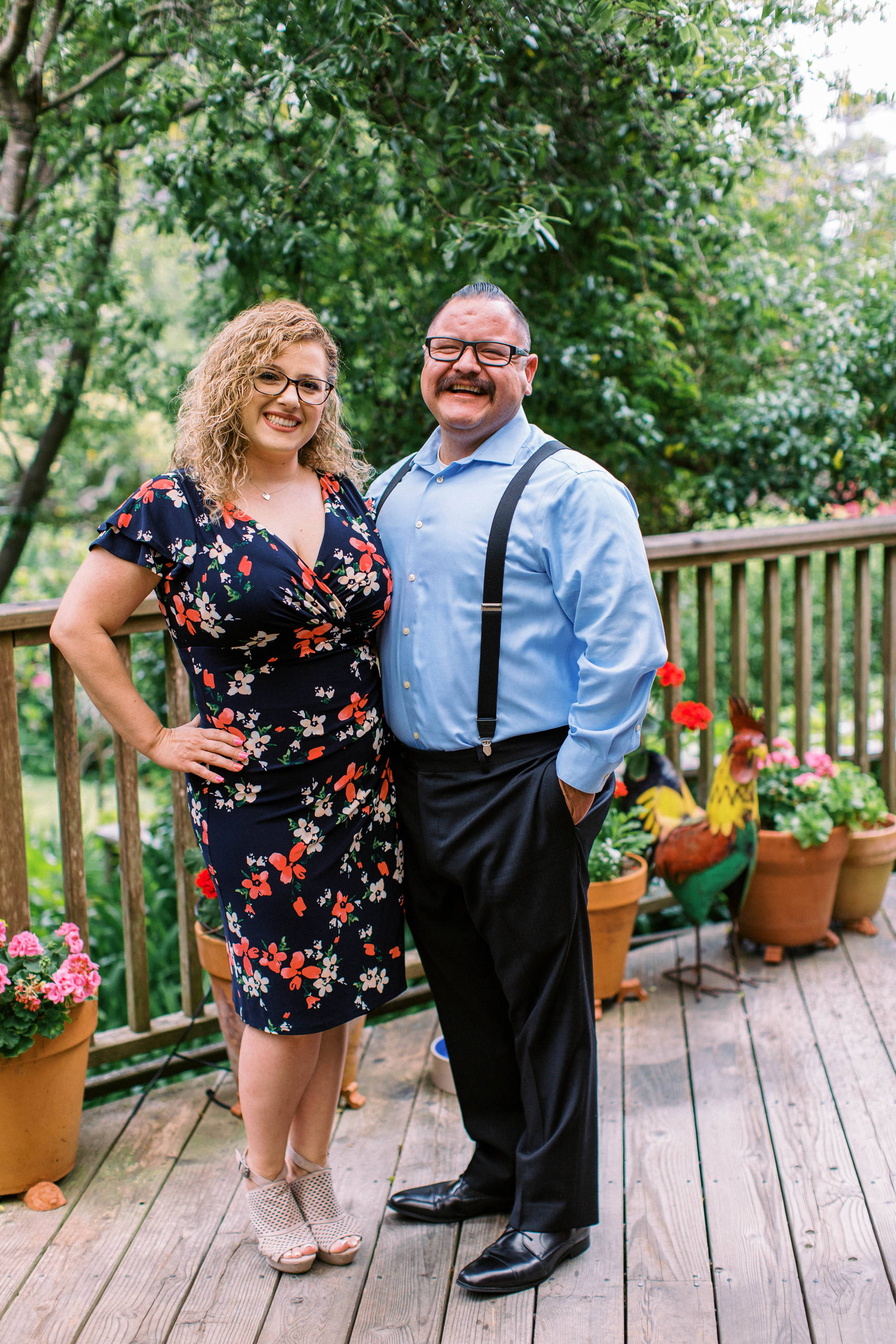 Separates are believed to be the fundamental essence of the smart casual wedding dress code. You may choose matching separates from one store or create the perfect look by mix-matching different articles.
Dress pants, silk pants, chinos, or khakis are the first choice if you want to wear pants to a wedding. However, short-suit pants and dark denim jeans are also popular choices. Many prefer wearing skirts for a more casual look to avoid a business vibe.
For tops, choices abound. You can wear collared shirts, button-ups, and casual tops. As mentioned before, blazers are a good option to go with pants, dresses, or even short pants.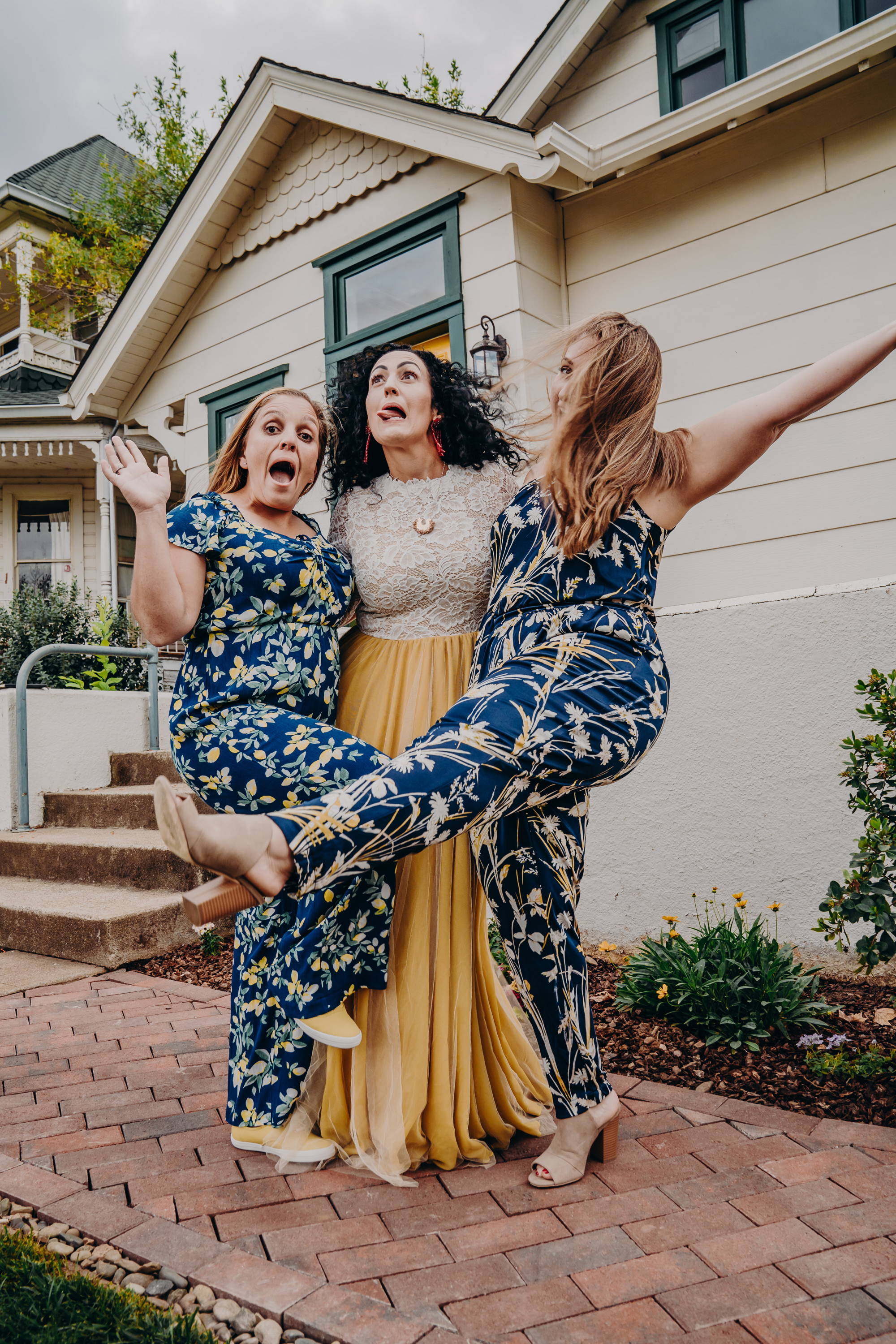 ---
The smart casual dress code for a wedding does not restrict you from wearing any type of specific footwear. That said, it's preferable to avoid stilettos, platform heels, or sneakers that make it too casual.
Block heels and kitten heels are the best selection for a smart casual wedding, depending on your dress. Or, opt for ballet flats, oxford shoes, loafers, wedges, or ankle boots.
It's said that accessories can make or break any attire.
The right choice of accessories with a smart casual dress for a wedding is inevitable. Wearing a little bit of extra jewelry or a fancy purse will shift your statement from smart casual to cocktail dress real quick.
Opt for a subtle approach when accessorizing your ensemble for a smart casual dress code for a wedding. There are multiple options, such as a watch, bracelet, necklace, rings, or a pair of earrings. Choose one or two out of these that suit your dress.
Also, do not forget that your purse makes a huge difference. Pick up a stylish yet classy statement clutch for the day.

---
What to NOT Wear to a Smart Casual Dress Code Wedding?
All-White
No white is an unwritten rule in the book of wedding attire whether you have to wear formal, semi-casual, smart casual, or cocktail. The bride must feel special at all costs as it is her day. Thus, the guests typically avoid wearing white to any wedding – and we suggest the same.
However, it does not mean you may not wear a white blazer or shirt under your suit. It's all about moderation!
Floor-length Gowns
Floor-length gowns are not a no-go area when the dress code is formal or black-tie. However, weddings calling for a smart casual theme are not the most appropriate for wearing long evening gowns.
Tracksuits
While we mention that you must avoid wearing a long gown to such a wedding, it is worth noting that tracksuits are also not suitable. Tracksuits are too casual for a wedding, even if it does not call for formal attire.
Sneakers
Expert stylists say that wearing smart casual should not mean leaving the etiquette of a wedding look. As a guest, you should remember that you are attending a wedding, and the hosts might not be happy with you showing up in sneakers. Especially when paired with jeans and a casual shirt will not give the wedding-type feel.
Weddings are a once-in-a-lifetime event, and if your friend or relative has mentioned a smart casual dress code for the wedding, they have something specific in mind. A smart casual ensemble lies between formal and informal, combining well-fitted elements with a semi-casual feel. You can achieve the perfect attire by considering each component separately and then seeing how they look together. Skirts, silk pants, and dress pants together with dress shirts, button-downs, and blazers are the top choice besides midi-dresses.
Take inspiration from the styles we have put together above for you, and create your own smart casual wedding dress code outfit!